Together, DFMs Have The Power
INTERCONNECTED is just the beginning. Soon, Dynamic Freight Matching service providers (DFMs) will transform the future of digital freight by switching on the power of true INTEROPERABILITY between DFMs. As a neutral utility, functioning as the data clearinghouse for the approximately 200+ North American DFMs, DFM Data Corp. is both the catalyst for DFMs coming together and the platform by which they can functionally collaborate and cooperate.
Our platform allows ANONYMIZED data-sharing between DFMs and the automated removal of duplicated load and capacity postings (aka "Phantom Data") from multiple DFM marketplaces, platforms and load boards—and ultimately, the entire US truckload spot market. Eliminating Phantom data means being able to consistently deliver on the promise of FRICTIONLESS matches virtually 100% of the time.
Providing a better customer experience along with improved operational efficiency is how DFMs can drive more demand, more loyalty, more growth, higher margins, and more PROFIT! Only by working together toward common interest can DFMs eliminate Phantom data.
Together, DFMs have the power.
All day, every day, phantom data is undermining dynamic matching algorithms. Phantom data is a by-product of market behavior. Shippers, carriers and brokers routinely post their availability onto several marketplaces, platforms, apps and load boards at once to ensure a quick match. They know "the more I post, the better off I am". The problem is, after a load is booked on one platform, the other platforms still show it as available—even hours later. When a DFM matches a load or transport that is already booked, it quickly undermines the customer experience with confusion, delays, and cancellations.
This very minute, virtually every dynamic freight matching provider has load and capacity listings in their datasets that are not bookable. Matching algorithms cannot optimize for phantom data. Unfortunately, the behavior of posting on multiple platforms is here to stay. There are currently more than 200 DFMs with active marketplaces where shippers and carriers post availability. As they capture more and more market share from traditional freight service providers, the incident rate of phantom data will grow substantially… probably exponentially.
WHAT are the BENEFITS of eliminating phantom data?
There are two key benefits of eliminating phantom data:
Enhanced growth and profitability for DFMs
Increased demand for digital freight services
When you eliminate phantom data from a DFM platform, there is a significant, measurable gain in both labor efficiency and the customer experience. The labor efficiency gain comes about from not having to waste time chasing down replacements for deals you thought were booked, only to find out later that the truck was already booked elsewhere and is not actually on the way.
The customer experience improvement comes from delivering on the promise of fully-automated deals. Your shipper and carrier customers will no longer experience the confusion, delays and cancellations that false-positive matches create. This will naturally lead to fewer "one and done" customers – with more loyalty and more repeat business.
All of which adds up to increased demand for digital freight services, increased market share, lower operating costs, more revenue, higher margins and more profit.
HOW can you eliminate phantom data from the ENTIRE market?
Fortunately, eliminating phantom data is really quite simple:
The DFM informs a central clearinghouse of a booking.
When a load is "En Route", the clearinghouse signals the rest of the DFMs to purge the booked assets from their datasets.
Our ATR Software (Anonymized Transaction Relay):
Automates DFM send/receive of transactional data and signals to and from the Ingestion Service
Signals DFM to remove phantom data from the DFM's dataset
Anonymizes private information – double hashed – and preserves a record to the blockchain
Will align with standards bodies such as: GS1, IEEE, ISO, and BiTA
WHY is DFM Data Corp. the ONLY company that can do this?
Most people in the dynamic freight industry are probably unaware that there is a patent for dynamic freight matching: US Patent 7755518 –"Dynamic and predictive information system and method for shipping assets and transport". In addition to dynamic freight matching, the patent "claims" describe the multi-posting and multi-removal of duplicated load and capacity listings from multiple platforms (aka purging phantom data). DFM Data Corp. is the only company that can do this for the industry, because we have secured EXCLUSIVE RIGHTS to license and sublicense Claims 6, 12, 21, and 26, in alignment with our mission to improve the performance of dynamic freight matching (DFM) providers.
HOW SOON can this happen?
In order for DFMs to benefit from DFM Data Corp's solution, the industry needs to come together in the spirit of coopetition. There are early adopter DFMs who are willing to be first, there are industry leaders speaking up, and we have built the infrastructure.
The essentials are in place:
A truly neutral service offering
Scaleable technology architecture
A transparent governance structure
An online DFM industry collaboration platform
We are ready to onboard DFMs:
What is phantom data?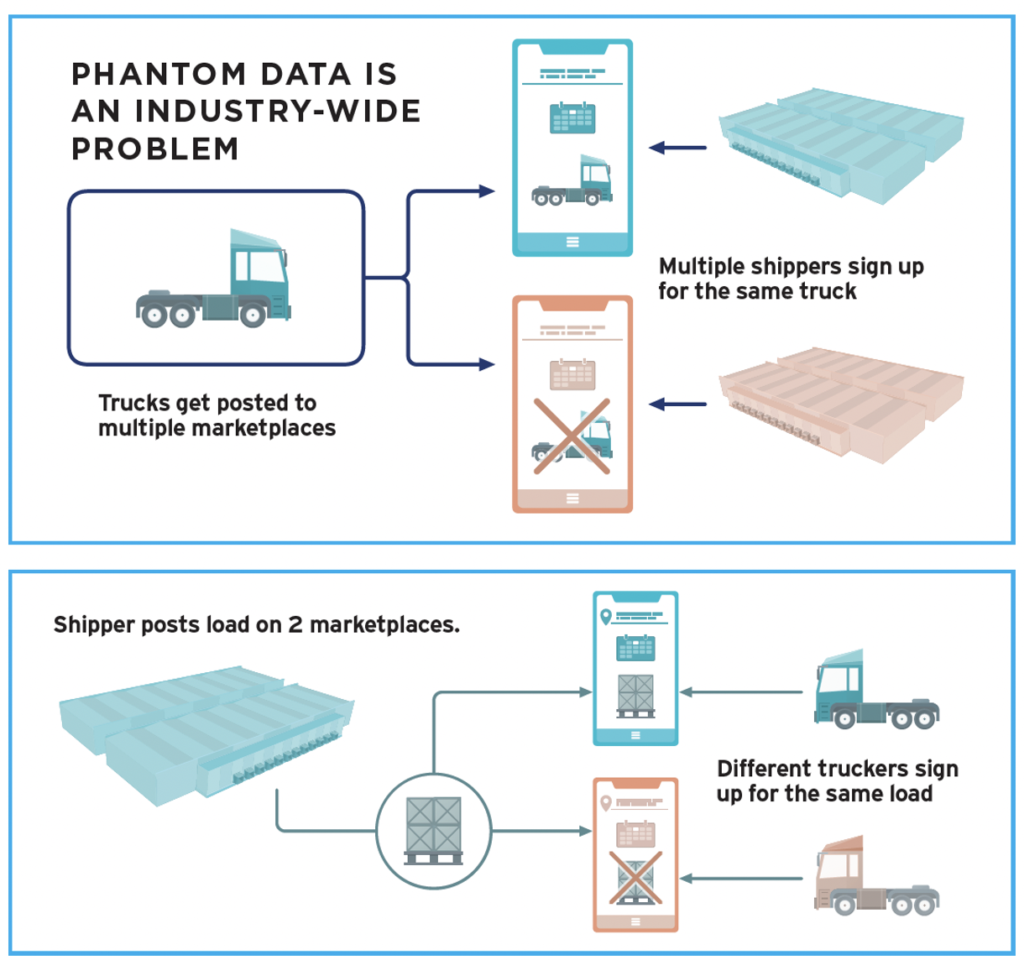 How much does phantom data cost YOUR operation?
Who Controls the Data?