All companies performing dynamic freight matching (DFMs) are encouraged to become Members. To be a member means that your company has agreed to share anonymized transactional data with the rest of the industry. It also implies that you understand that the your company will be part of a DFM industry consortium where competitors have agreed to collaborate and cooperate for the benefit all DFMs and their customers. And, to your customers, it means that because your company has the cleanest data possible, it can provide the very best quality service.
WHY our customers are MEMBERS
Customers of DFM Data Corp. are companies performing digital freight matching. Our mission as a neutral utility encourages DFM's direct participation in the planning and operation of the utility. Because DFM Data Corp is the only company authorized to serve the DFMs in this capacity, we believe that DFMs should be able to directly influence how the company operates. Certainly not a typical business model for a data services firm, our structure of membership via governance is actually the means by which competitors can come together to cooperate and collaborate over common interest.
Our member structure is governance-driven, where members have voting privileges. Participating member companies can offer up ideas. Their ideas are developed by working groups made up of Member DFMs. The working groups make recommendations to the Steering Committee who have 6 out of 7 votes. If the Steering Committee votes to implement a recommended idea, it informs DFM Data Corp. operations, and it is implemented. So, as you can see, customers of DFM Data Corp. have a very different type of relationship with our company than you would typically find–and we are proud of it.
HOW to BECOME a member
Become a Participating Member is straightforward: – You talk with us – You execute documents – You install software.
Membership Onboarding Process
Receive your credentials and perform initial login to the Member Voices Portal

Review Membership Documents
The Member Voice Portal is where you go for all utility and consortium information and particip[ation
Execute non-binding Memorandum of Understanding (MOU)

Signing the MOU initiates the Membership onboarding process
Choose your desired membership class

– Execute the Membership Agreement

– Execute the License Agreement

Appoint your company representatives
Your company representatives receive usernames and passwords and join the working groups of their choice.


Begin technology on-boarding process

Your team collaborates directly with our team to configure and test the the installation of ATR software on your platform
Begin Anonymized Data Sharing
Your company is interconnected with the other DFM members
WHY are there both NON-EQUITY & EQUITY members?
Every Dynamic Freight System / Company is qualified to be a non-equity Participating Member. Dynamic Freight System / Company's are permitted (encouraged) to convert their membership to Equity member status. Equity members are those that have purchased shares in DFM Data Corp. DFM Data Corp. has allocated 20% of the shares for Dynamic Freight Matching Systems / Company. The company will fill Equity Memberships until all stock has been purchased.
Non-Equity Vs. Equity DFMs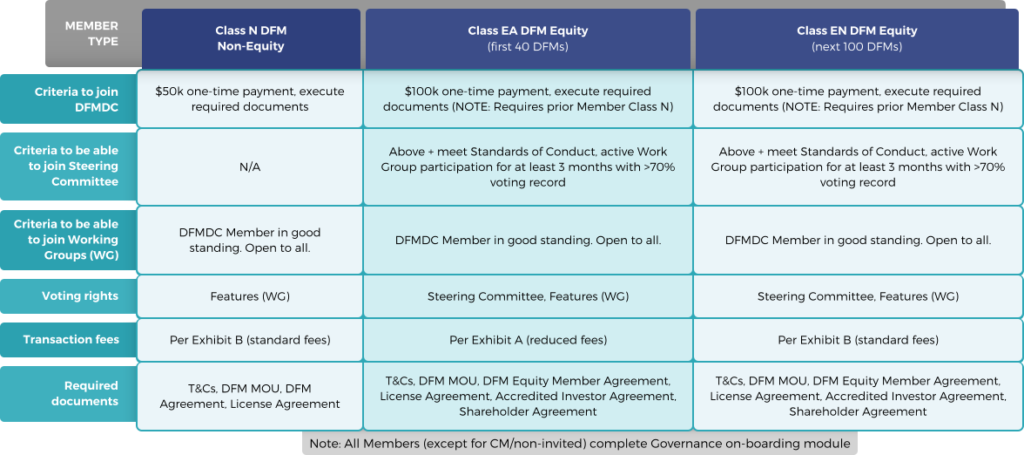 WHAT is the difference between DFM members and CONTRIBUTING members?
DFM Vs. CONTRIBUTING MEMBERS
All companies performing dynamic freight matching become Members and are encouraged to take an active role in the utility.
We also welcome companies and individuals who do not provide dynamic freight matching services, but offer value-added services to the dynamic freight industry. They can become CONTRIBUTING MEMBERS. Contributing Members will be included in an exclusive Dynamic Freight Industry online resource directory and will be provided periodic opportunities to be featured in presentations to the industry.
DFM Vs. Contributing Member Classes