Article written by Nathan Owens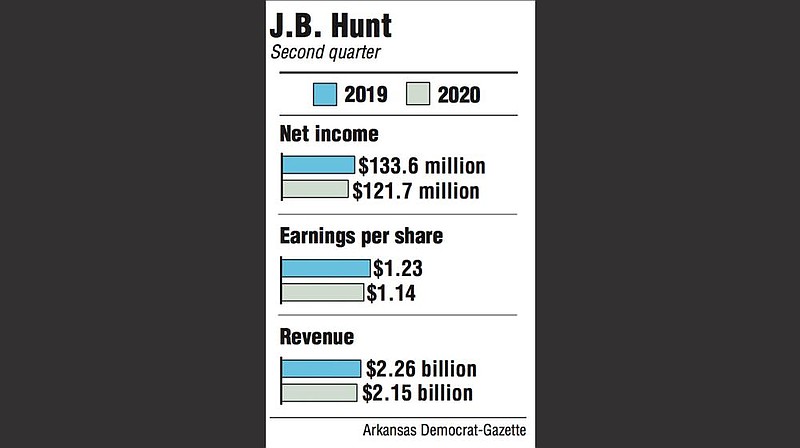 Graphs showing J.B. Hunt second quarter information.
J.B. Hunt Transport Services Inc. on Thursday reported a second quarter profit of $121.7 million, down 9% from a year ago.
Despite challenges experienced at the start of the quarter ending June 30, results beat Wall Street's expectations.
Revenue fell 5% to $2.15 billion, compared to $2.26 billion last year.
The Lowell-based carrier attributed its results to significant volume declines in railway and brokerage transportation compared to the year prior, along with fewer final mile stops. This was somewhat offset by a reported 17% increase in truck loads during the quarter.
"We continue to carefully review our spending, but are being mindful of the current environment," said John Kuhlow, J.B. Hunt's senior vice president of finance and interim chief financial officer. Company executives discussed quarterly results in an afternoon investor call after the stock market closed Thursday.
The pandemic heavily affected J.B. Hunt's financial statements. There were unexpected expenses, Kuhlow said, including special paid time off and sanitizing costs, among others.
Several trucking and logistics analysts expected earnings to be around 80 cents per share. Instead J.B. Hunt posted earnings per share of $1.14, down from $1.23 last year, which exceeded expectations.
April was a rough start for the company's railway, or intermodal business, which accounted for half of J.B. Hunt's quarterly revenue.
Despite this, sales surprisingly trended upward and showed growth in June as the country continued to reopen, said Darren Field, J.B. Hunt's executive vice president and president of Intermodal.
Intermodal's operating income was $107 million, down 14% from $124 million. Revenue fell 7% to $1.07 billion compared to the previous year's quarter.
The company's fleet, or Dedicated business, was less productive than last year but flat excluding fuel surcharge revenue. The segment reported operating income of $83.1 million compared to $76.2 million, up 9%. Revenue slid 1% to $533 million.
During the quarter, J.B. Hunt's brokerage, or Integrated Capacity Solutions, and final mile businesses both had operating income losses of $13.1 million and $5.2 million, respectively. They also reported revenue declines attributed to weaker markets and several sites being temporarily closed.
The brokerage segment's revenue fell 9% to $304 million compared to last year, while final mile's revenue declined 2% to $140 million.
Meanwhile, J.B. Hunt's truckload business saw revenue of $108.3 million, up 9% from a year ago. Due to increased costs, including investments in technology and higher insurance and claims costs, operating income was $3.5 million, down 61% from last year's quarter.
"Market dynamics were unique to say the least," said Shelley Simpson, J.B. Hunt's executive vice president and chief commercial officer.
J.B. Hunt shares rose $2.21, or 1.7%, to close Thursday at $132.55. They have been as high as $133 and as low as $75.29 in the past year.
Original Source: https://www.arkansasonline.com/news/2020/jul/17/jb-hunt-discloses-2q-profit-of-121m/?business